This bar, like the previous Amedei bars, I purchased in the same Cocoa Store. I went to buy another Venezuela bar and saw that they had samples of some chocolate on the counter. The saleswoman said it was Trinidad.
I tried a piece, then a second, then a third, and decided to buy a Trinidad bar in addition to Venezuela, then I took a fourth piece of chocolate and eventually bought two Trinidad bars :)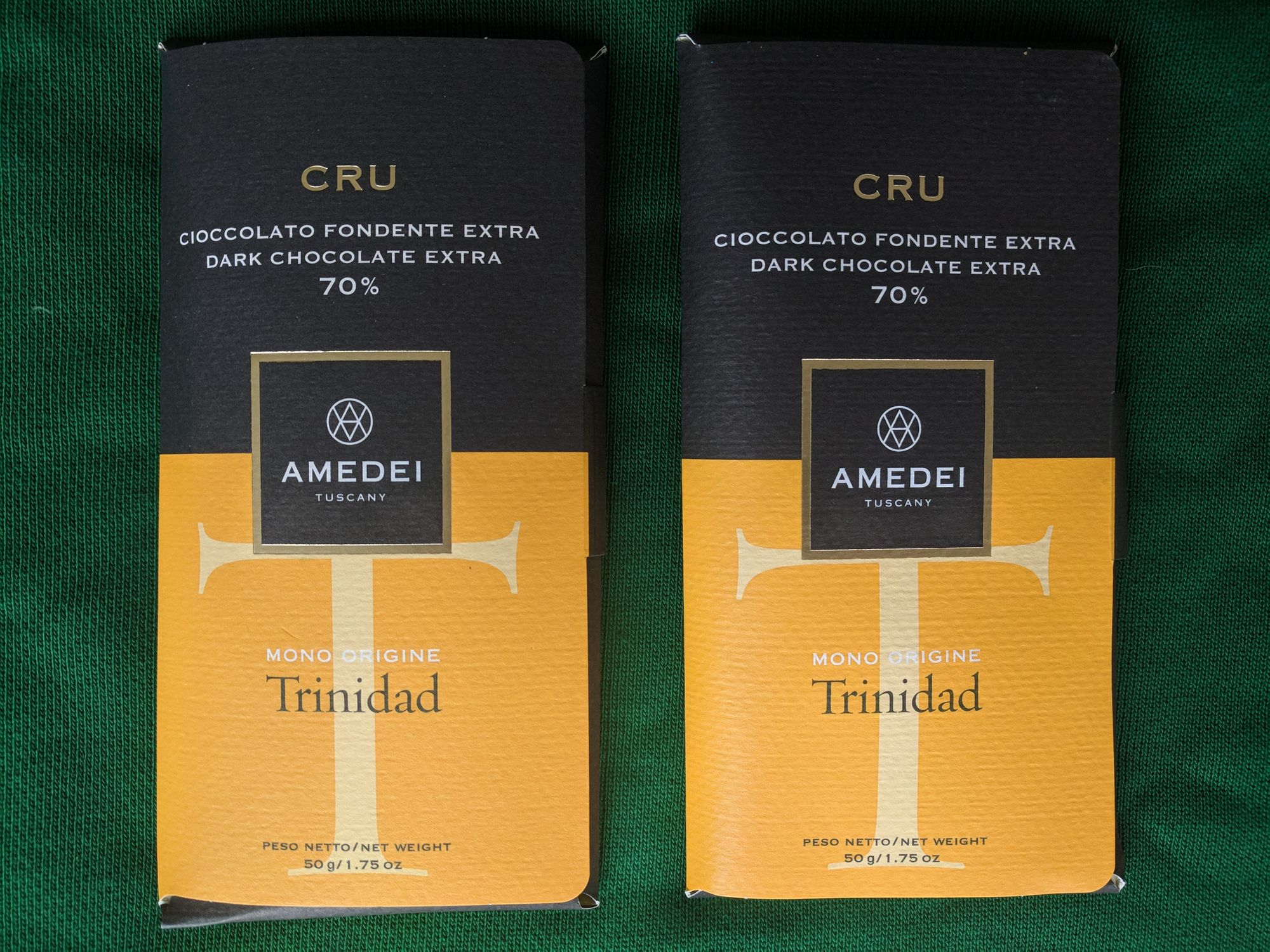 Let's open! Two bars, each 50 grams. In total we have 100 grams for $12, expensive, but it seemed to me that it was worth it. Packaging looks traditionally good.
The smell here is pleasant - acidic, caramel and something wooden. Indeed, wood is mentioned in the description. And I feel proud of myself for having smelled it myself :)
The taste seemed to me a little different, from the chocolate that they had on the counter in the store. And I even suspect that maybe that was not Trinidad, but something else. Or there was samples of fresh Trinidad bar, and not the one that will soon expire. Well, okay, the taste is not bad, interesting and peculiar. There is also a little bit of wood, acid and a little bit of astringency. I ate chocolate throughout the day, from morning to evening, bit by bit. On average, it turned out well, but Venezuela is still better and I still have a bar of it, so I will enjoy it a little bit later :) Trinidad gets a four. It is possible that a little later, I will buy a fresh bar and conduct a recertification.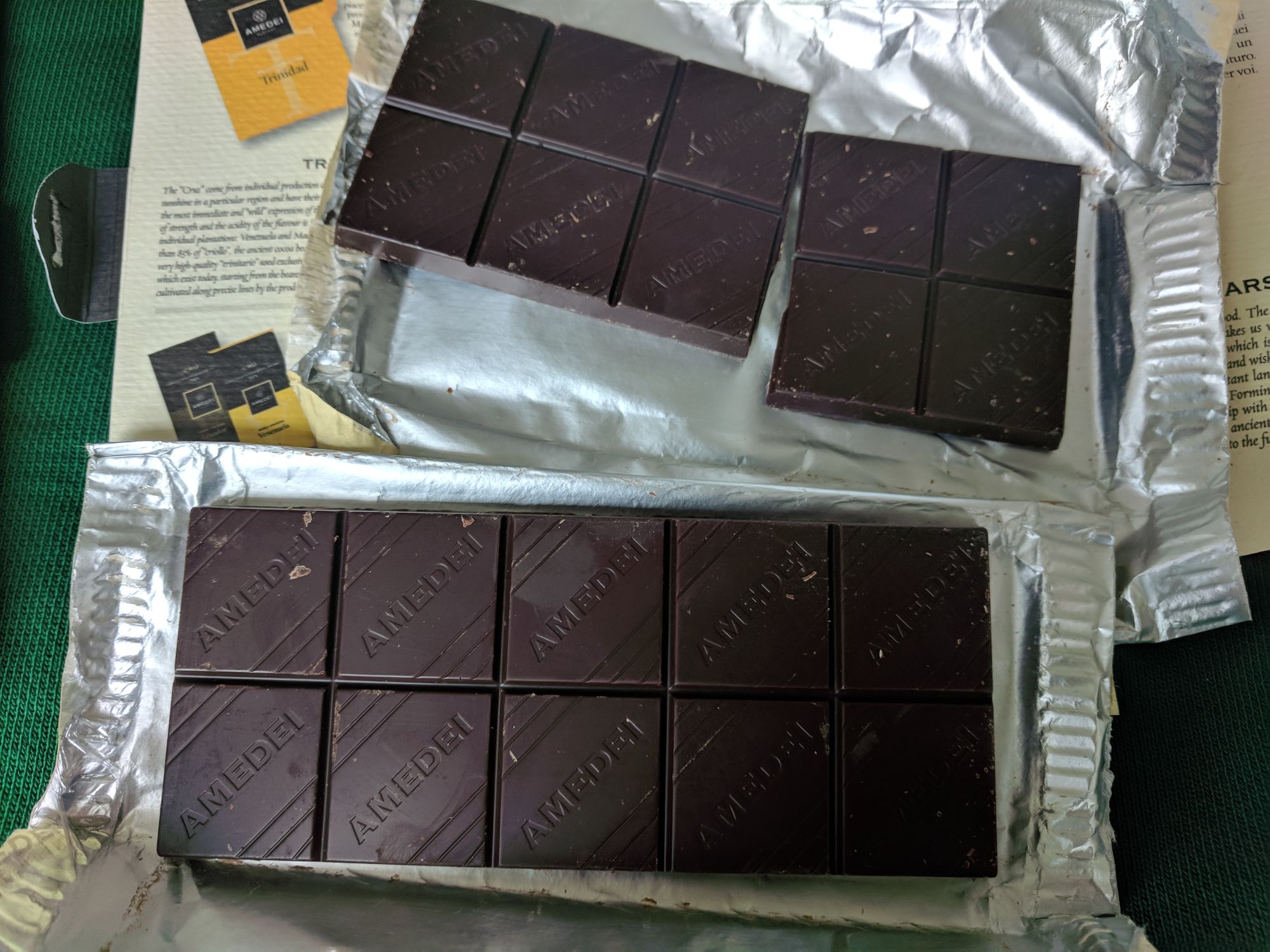 ---
Эту плитку, как и предыдущие плитки Amedei, я приобрёл все в том же Cocoa Store. Я зашел купить очередную плитку Venezuela и увидел что на прилавке у них лежали кусочки шоколада на пробу. Продавщица сказала что это Trinidad. Я попробовал кусочек, потом второй, потом третий и решил купить плитку Trinidad в добавок к Venezuela, потом взял четвертый кусочек шоколада и в итоге купил две плитки Trinidad :)
Распаковываем! Две плитки, каждая по 50 грамм. В итоге имеем 100 грамм за $12, дорого, но мне показалось что оно того стоит. Упаковка выглядит традиционно хорошо.
Запах здесь приятный - кислинка, карамель и что-то деревянное. Действительно, в описании упомянуто дерево. Я прямо горжусь собой за то, что я сам его унюхал :)
Вкус показался мне немного другим, не тем который был на прилавке в магазине. И я даже подозреваю, что возможно там был не Trinidad, а что-то другое. Либо там был свежий Trinidad, а не тот у которого скоро закончится срок годности. Ну да ладно, вкус неплохой, интересный и своеобразный. Тоже есть немножечко дерева, кислота и немного терпкости. Я ел шоколад на протяжении дня, с утра и до вечера по кусочку. В среднем получилось неплохо, но Venezuela всё-таки лучше. И она у меня еще есть, так что буду наслаждаться ей чуть-чуть позже :) Trinidad получает четверку. Вполне возможно что чуть позже я куплю свежую плитку и проведу переаттестацию.